National

Sample

Design

Catalogue

- 2019-09-23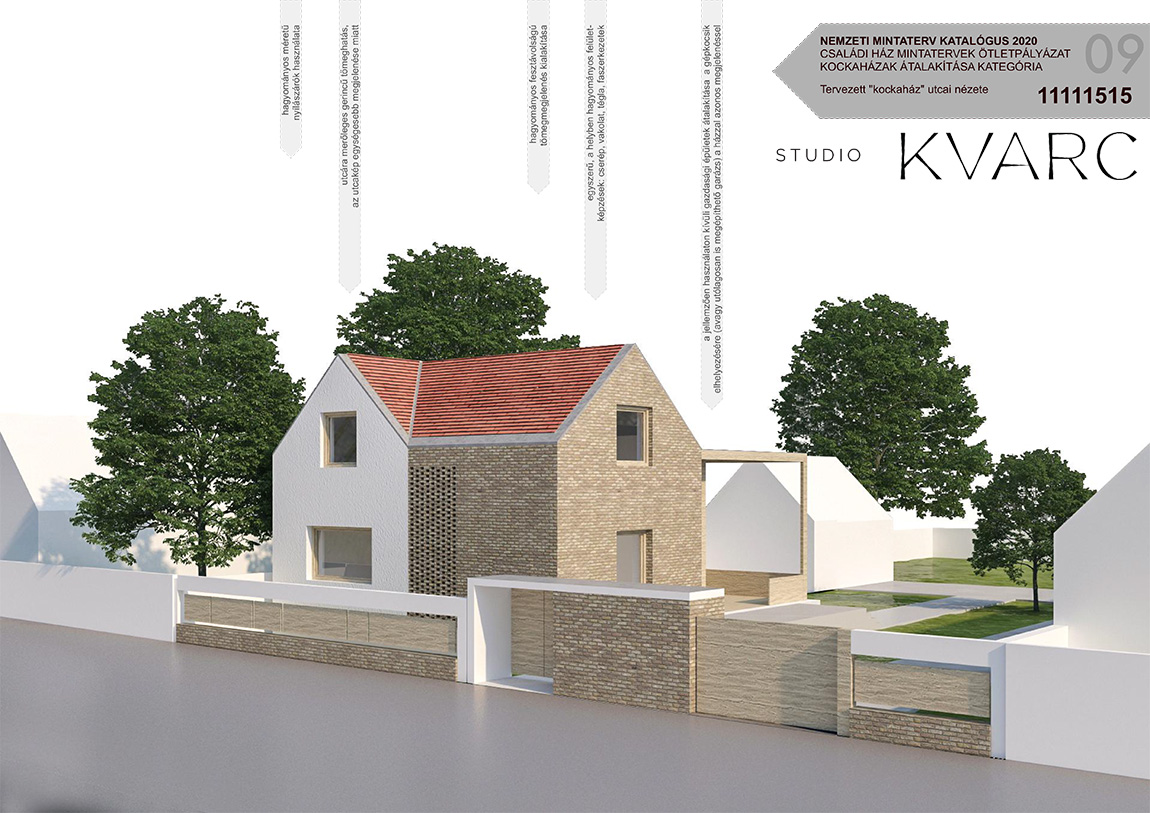 The architectural design competition of the National Sample Design Catalogue has been closed. We entered in the category of remodelling cube houses, the plan was won to be purchased, so the design will be included in the catalogue.
The present plan was based on the geometry of a real cube house in Komárom-Esztergom county. The type of building which can be considered small among the so called Kádár cubes is very common in the settlement, forming a disturbing contrast with the traditional peasant houses. The plan presents a solution in which the tent-roofed, wide-tract masses can be reborn for today's families in a way that also heals the condition of the battered village street scene.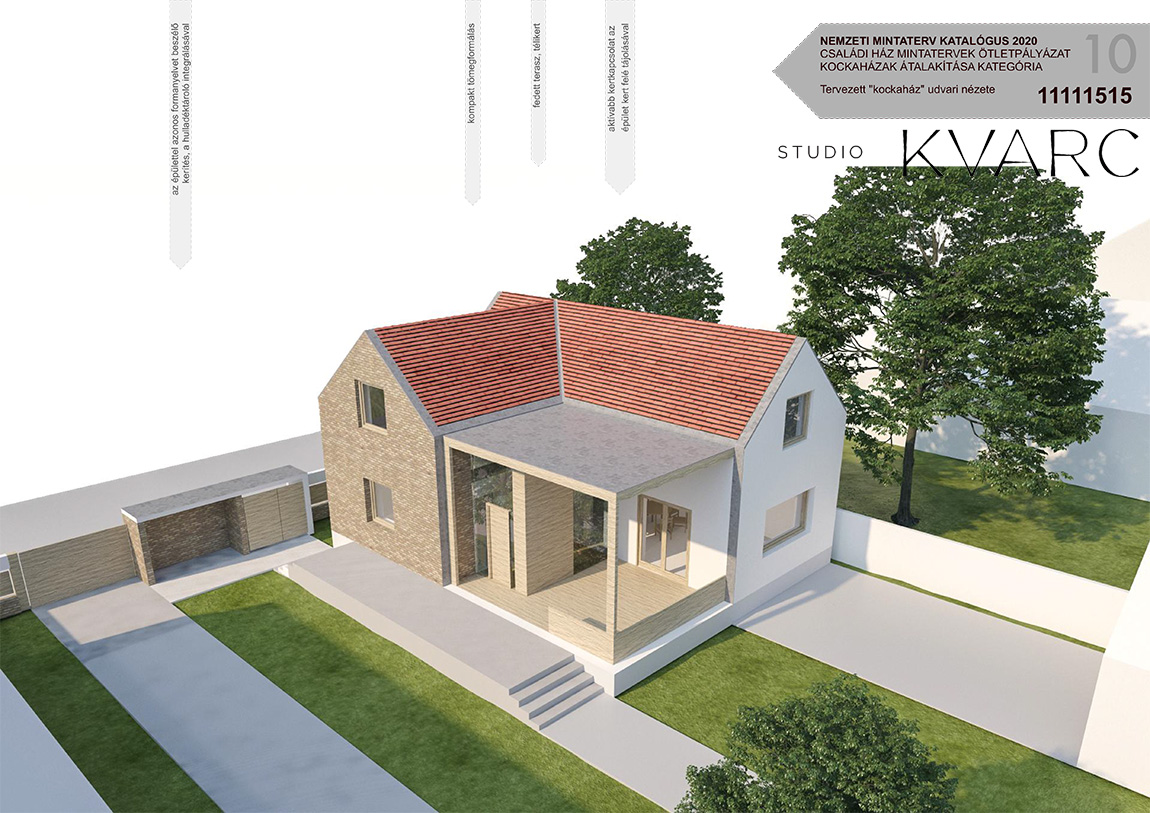 1. Mass formation.
Instead of a tent roof geometry and a 10-meter span, a saddle roof perpendicular to the street has been evoked  with a relatively traditional, rural building unit. Due to the geometry of the roof and the use of materials, the mass is optically divided into two parts, harmonized with the gable facades of the neighboring peasant houses.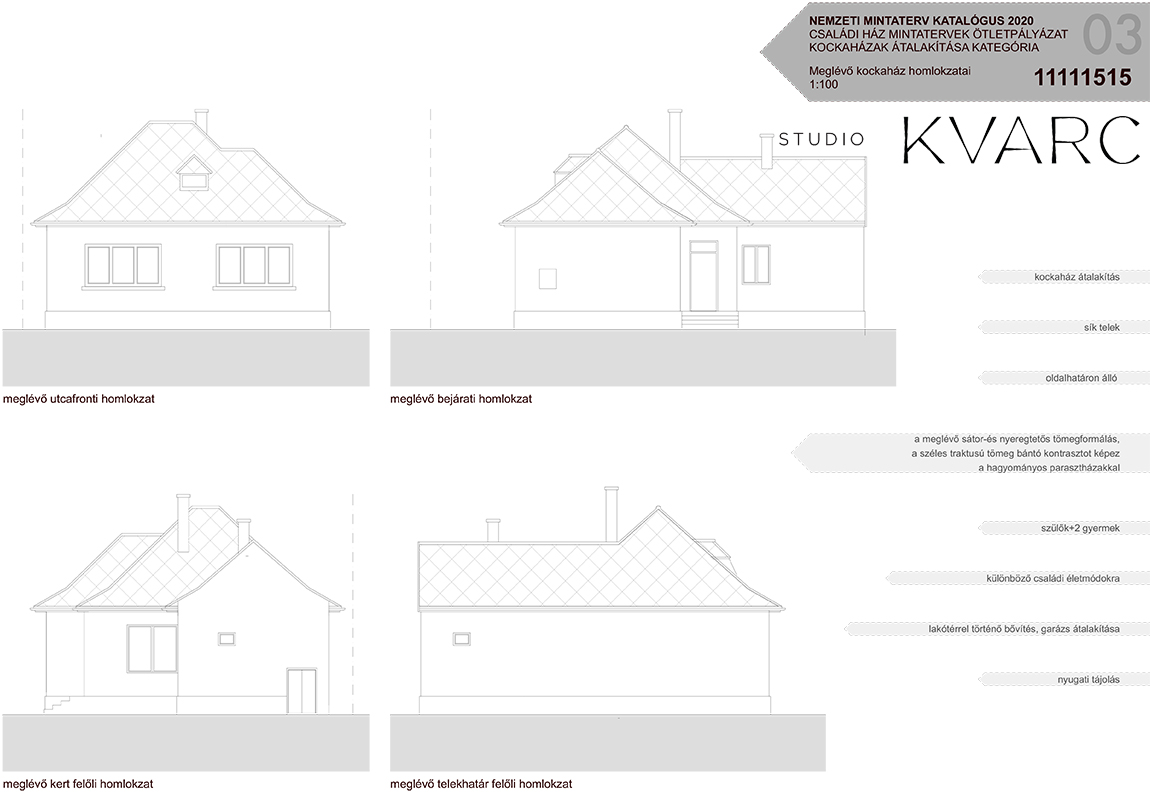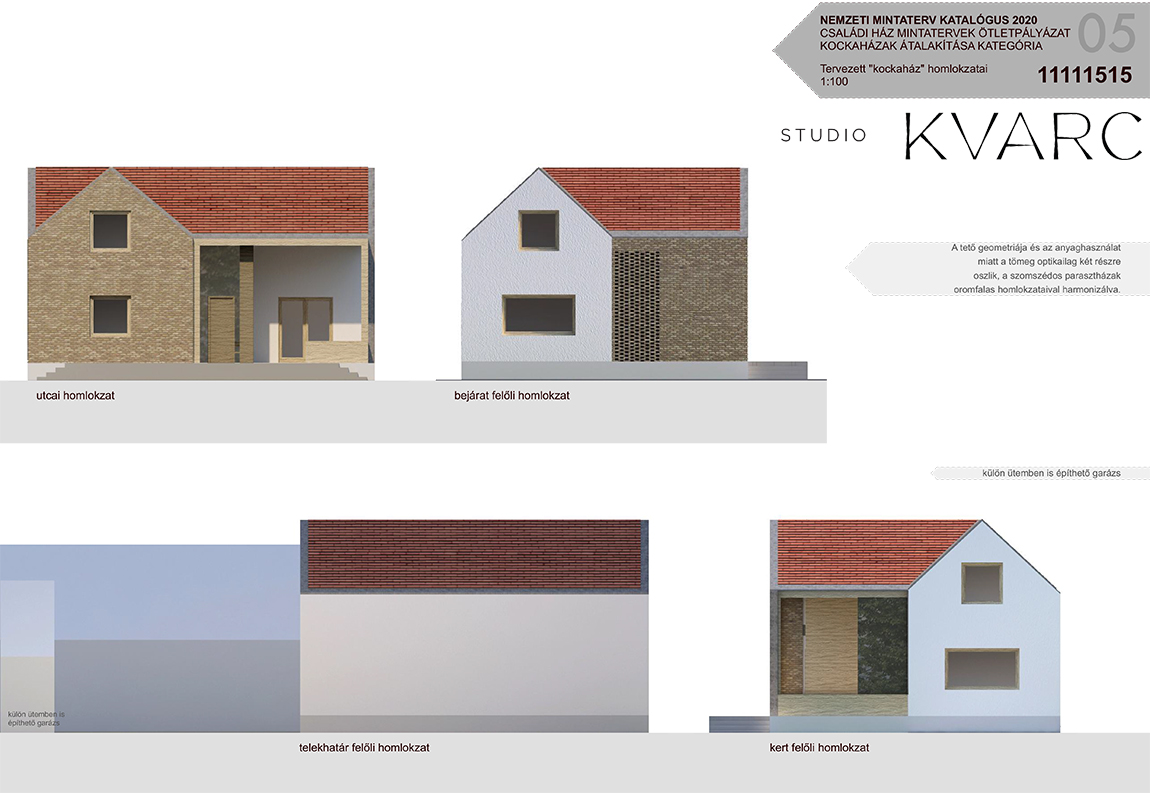 2. Enlargement. According to the current usage needs (eg separate children's rooms) it has been necessary to expand the floor space. The most economical way to do this is to expand upwards, as it is typically timely to replace / renovate the roof structure of the cube houses. The bedrooms have been located in the attic.
3. Reorganization of floor plan structure. The supporting structures have remained in addition to the transformation of some of the openings, the construction of the new staircase has only involved the demolition of a 2-3 beam wide slab field. Instead of the old small kitchen, a large kitchen-dining room has been prepared as the center of family life, the most important arena of everyday life, together with the living room, but separable. The entrance hall has become spacious and there has been space for service rooms int the house.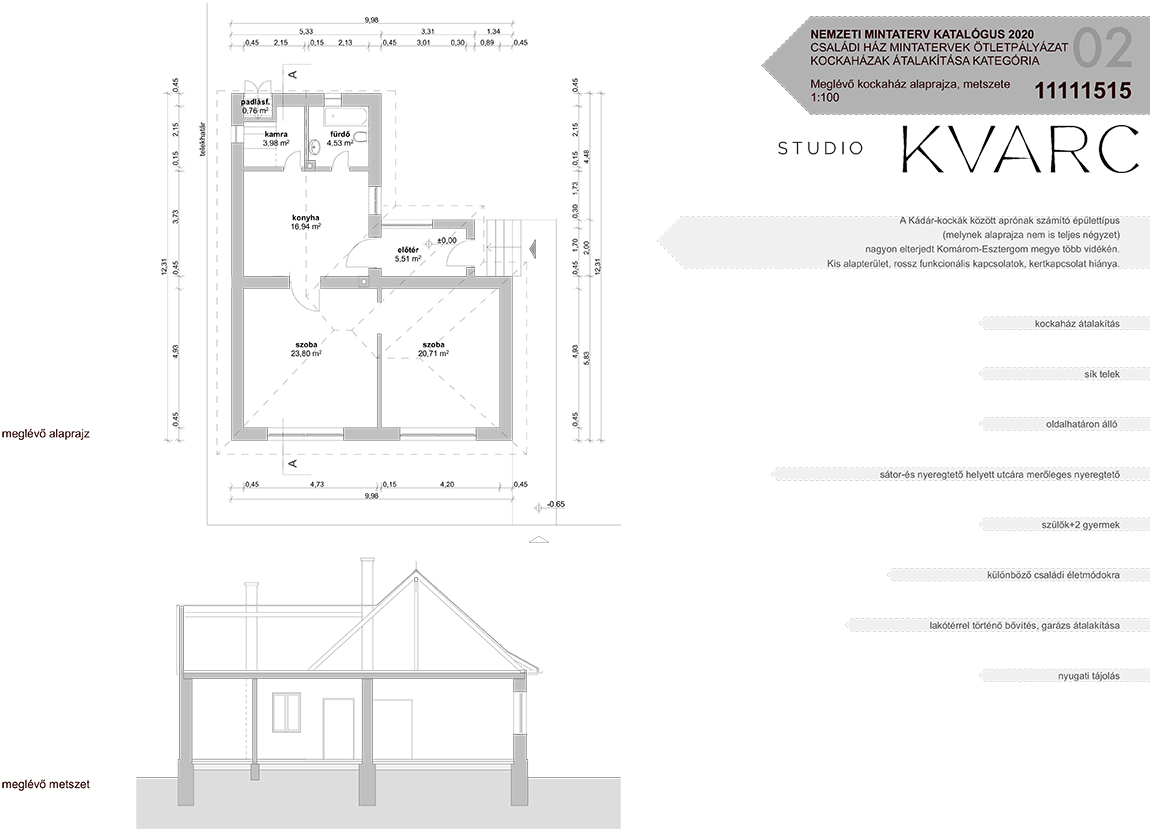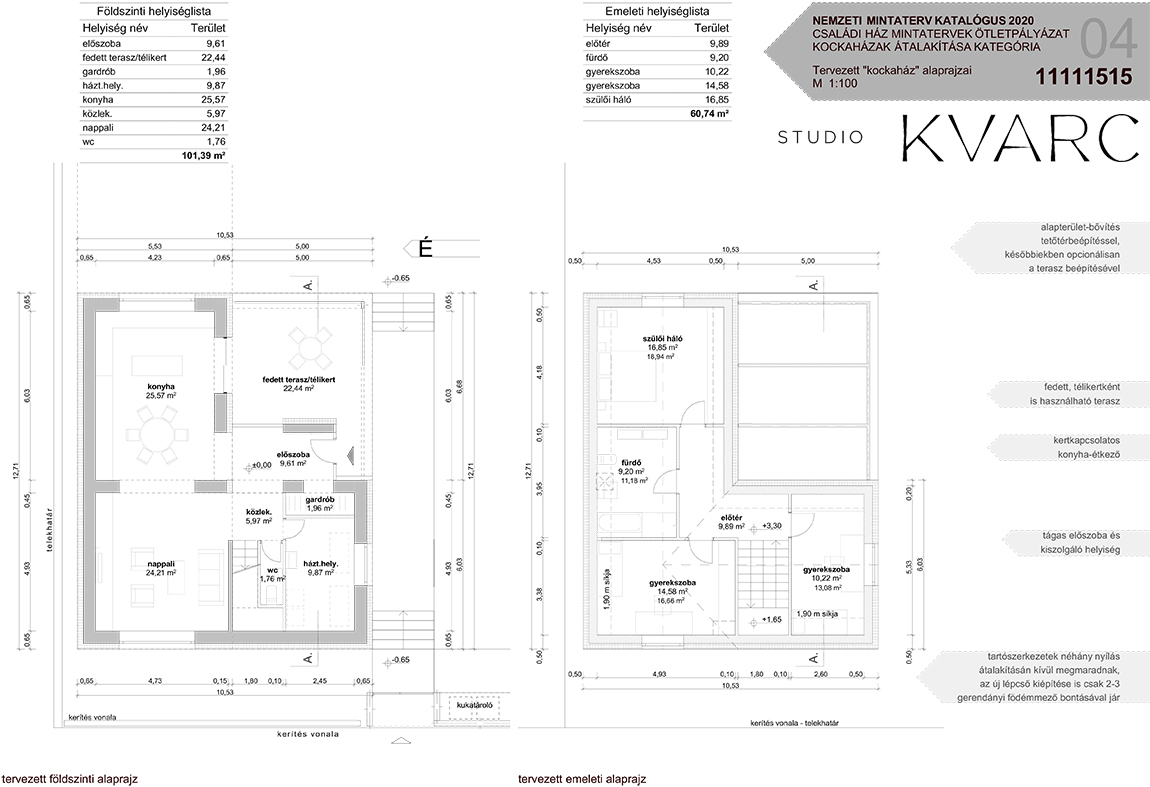 4. Garden connection. While the cube houses used to be open to the street, today we are looking for a more active connection with the garden. Thus, this was taken into account when placing the kitchen-dining room, as well as a covered terrace that can also be used as a conservatory.
5. Material use. Only traditional materials: plaster, wood, bricks, and roof tiles.
6. Energy awareness. Insulation, replacement of doors and windows, placement of rooms taking into account the highest solar gain.
7. Garage. Conversion of courtyard, typically disused farm buildings to accommodate cars.
8. Variations, adaptation. The roof geometry and floor plan concept can be applied to any type of cube house, with free variation of the rooms.