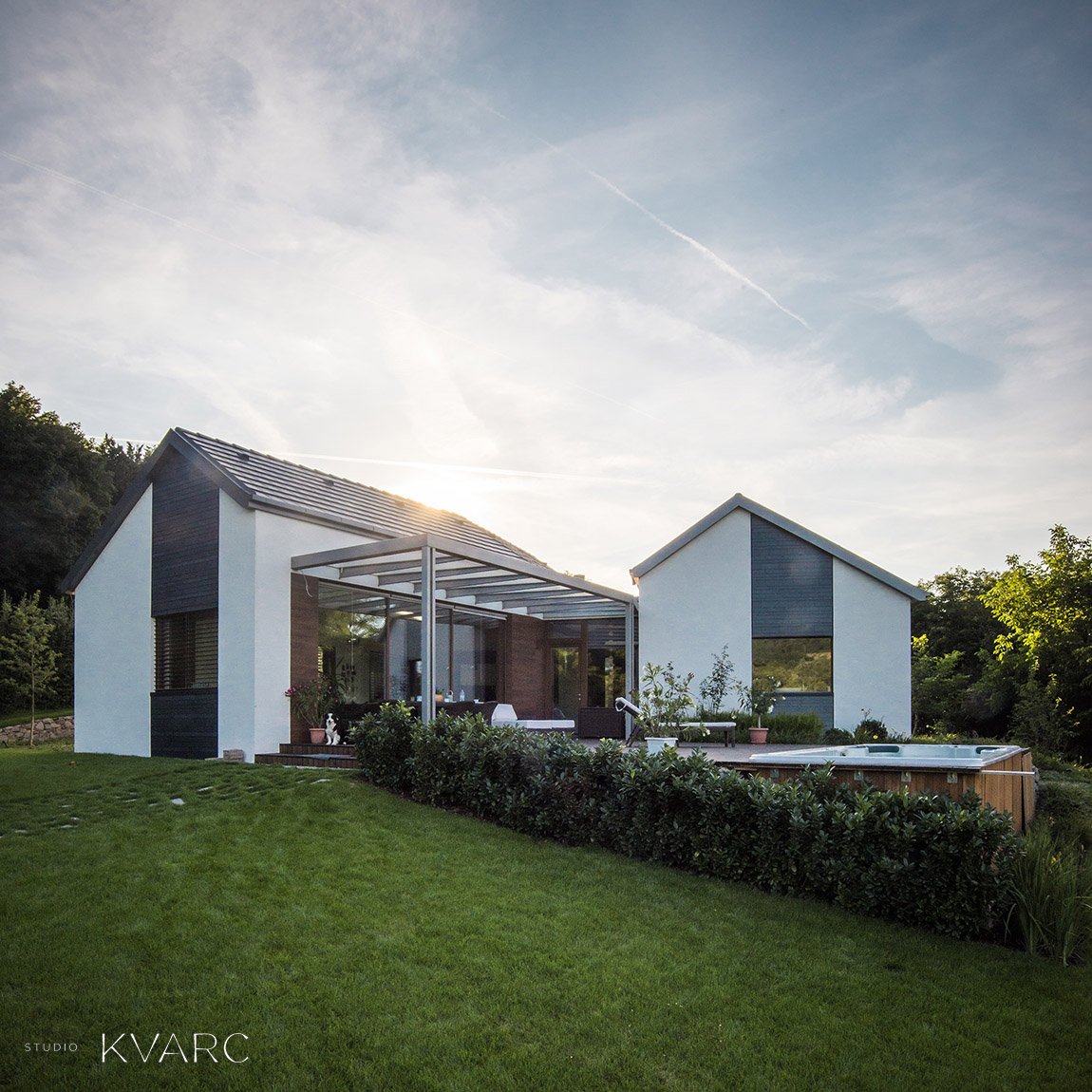 It was in 2012, on an early spring day, when the owner showed us his site in Mogyorósbánya as the scene for the home of his dreams. And we saw it as the design site of our dreams as well. It lies on the border of the village and the forest, on 7000 square meters, overlooking the Danube and the Basilica of Esztergom.
Mogyorósbánya is a tidy hamlet at the foot of Mount Gerecse, in a picturesque place. Although many houses have been built over the past decades, the rustic unity is still there. Our aim was to design a building that becomes an integral part of this image. In its scale and appearance, it should be a rustic but a contemporary piece of architecture.
Fitting into the landscape was the other major consideration. The irregularly shaped site, which slopes in the north-east direction is diverse in colour: a part of it is covered with groves, an other part is forested and are shrubs on it. At one point we look out and enjoy the landscape lying in front of us, and on the other point we may feel like hiding in the trees. These individual features were taken into consideration when determining the location of the buildings, and their masses were aligned with the contour lines of the terrain. The built elements are connected by a road, which also participates in their spatial organization. This road divides the family home into two broken, short-span roof masses, providing a two-way approach.
The windows of the house are not only architectural but also interior design elements. All windows have a secondary function. Just like the location of the buildings on the site we studied the certain activities by experience within the building as well: the living room window facing the grassy area became the reading corner, the sink was placed in the window of the bathroom facing the valley, the desks at bedroom windows overlook the wooded area.
Due to the close relationship between the land and the building, the environment harmonizes with them too. The artificial element, the house, is gradually refined, the coverings, planted shrubs and flowers are gradually altering to the original plant cover and relief.
In 2016 the house won "House of the Year Award" in Komárom Esztergom County. 
The house was designed with the cooperation of Klara Weninger.