Attic
extension
in
Bank
Street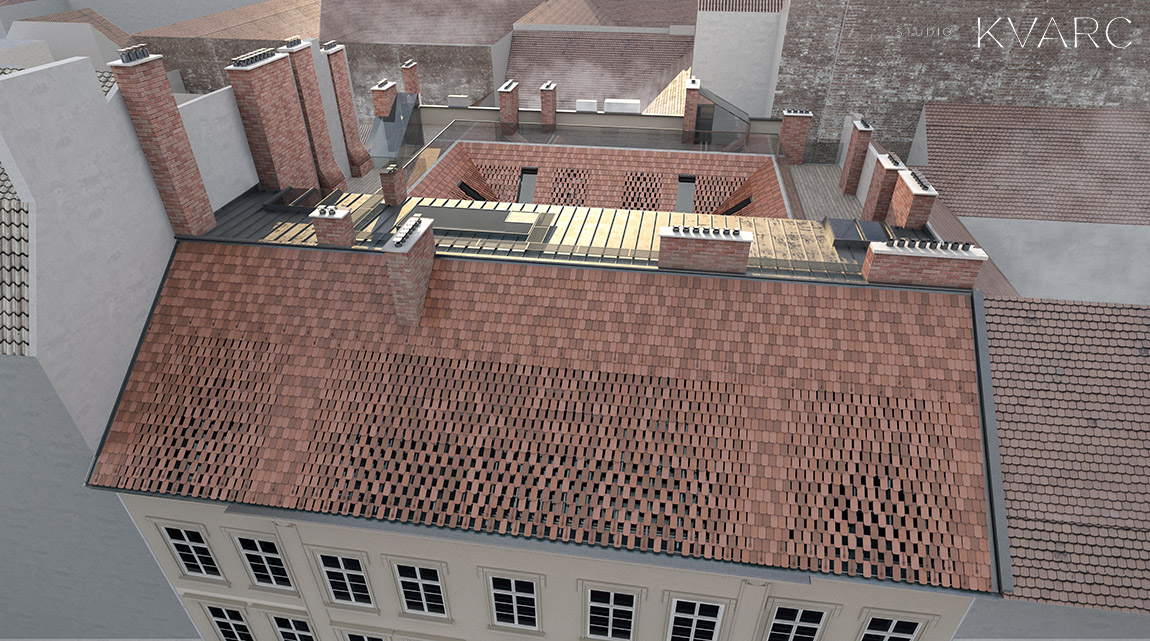 Budapest, District 5, Bank Street 3, Attic construction and reconstruction
Scale: net 650 m2 new construction, 5 new apartments
Investor: Mark Home Invest
The neoclassical romantic-style dwelling house was designed by Jr. Matthias Zitterbarth, a prominent representative of the neoclassical style. As the building is in the UNESCO World Heritage Site, the most important architectural aspect for us when constructing the attic was to create a sophisticated look that is worthy to the spirit of the place.
Instead of the currently used roof panel windows and the alterations that  characteristically change the weight of the roof and the ledge-to-roof connection, finding such a solution that solves the sunshine and view of the underlying spaces with the slightest change. For this reason, we designed a simple scaled roof fabric that follows the traditional stacking method but dynamically changes with its thinning and thickening, to form a delicate tile fabric hiding the glass surfaces behind it. This innovative solution provides such a unique space experience inside which combines the spirit of the old attics with a modern, light-colored interior, due to the original structure and the view of tiling.
When forming the mass of the construction we followed the original concept of the designer and the facade construction that classicize and follows the symmetric pattern. On the side of the courtyard it appears in an easier and more contemporary form. The specialty of the plan is that it does not reduce the exposure to sunshine on the existing levels but increase it.
We designed high-quality, exclusive apartments in the attic.
Current state:
Planned state: